Cybergeddon: The Convergence of Cyberterrorism, Cyberwarfare, Cybercrime, and Hacktivism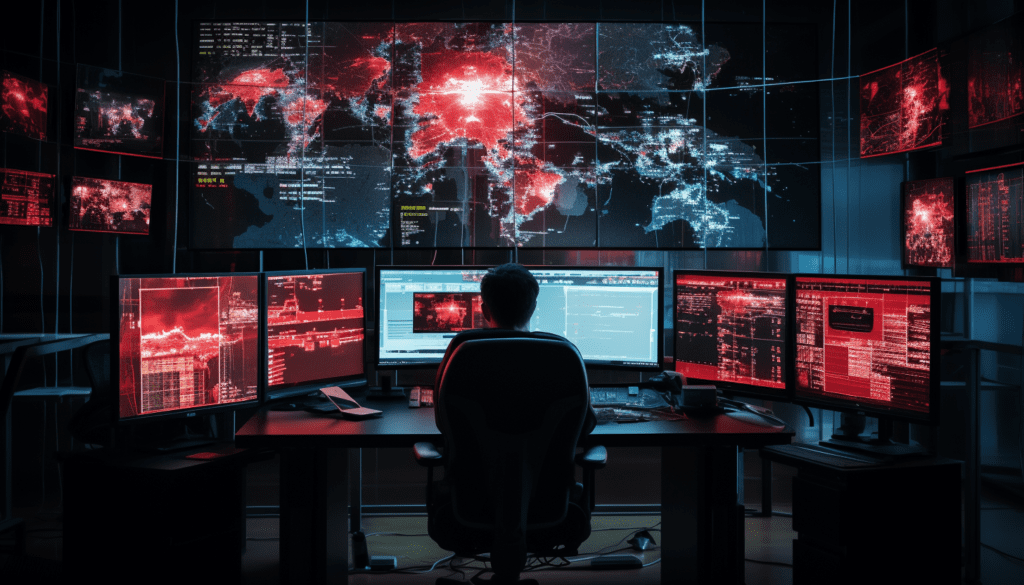 Exploring the Threats and Implications of a Digital Apocalypse
🔒Cybergeddon is more than a buzzword; it's a wake-up call for a digital doomsday scenario that could merge cybercrime, cyberwarfare, cyberterrorism, and hacktivism into a global crisis.🌍 #Cybergeddon #Cybersecurity
The term "Cybergeddon" combines two powerful concepts: "cyber," referring to the realm of computers and digital networks, and "Armageddon," which symbolizes an end-of-the-world scenario. The fusion of these words serves as a harrowing depiction of a massive, widespread disruption of digital infrastructure — one that merges cyberterrorism, cyberwarfare, cybercrime, and hacktivism. This is not a new idea, per se, but it has taken on a disturbingly concrete shape in recent years, evidenced by increasingly sophisticated cyberattacks targeting critical infrastructures like power grids, financial systems, and more. FireEye CEO Ashar Aziz has even warned that such attacks could severely destabilize not just the United States but the global economy as a whole.
The Perfect Storm: How Different Cyber Threats Converge into Cybergeddon
It's crucial to understand that Cybergeddon is not simply an extension of existing cybersecurity challenges but a complex, multi-faceted event that combines distinct types of threats. Cyberterrorism aims to use digital means to instigate fear and violence for political or ideological ends. Cyberwarfare involves the strategic use of cyber capabilities by nation-states or international organizations against opponents. Cybercrime focuses on illegal activities that exploit computer systems for monetary or other personal gains. Finally, hacktivism is often driven by ideological motives to make a political or social impact through hacking. Cybergeddon is the scenario where these elements coalesce, amplifying the potential damage exponentially.
Economic and Industrial Targets: A Ticking Time Bomb
The economic implications of a Cybergeddon scenario are staggering. If large-scale sabotage targets key financial institutions, the ripple effects would traverse the globe, potentially causing economic collapse. Let's consider an attack on Wall Street. If critical data becomes compromised or trading systems go offline, billions of dollars could vanish within minutes, leading to a domino effect that would affect stock markets worldwide.
Similarly, industrial control systems (ICS), which govern the likes of power plants, manufacturing units, and water supply networks, are another prime target. An attack on these systems could cripple vital services, plunging entire regions into chaos. The blackout in Ukraine in 2015, attributed to Russian hackers, serves as a case study in how fragile these infrastructures can be.
The Role of State Actors and Asymmetric Warfare
The concept of Cybergeddon also brings to light the role of state actors who may employ asymmetric warfare strategies. As conventional warfare has become increasingly costly and politically tricky, states may opt for cyber operations as a means of exerting influence or destabilization. North Korean attacks on Sony Pictures and the Russian interference in the 2016 U.S. presidential election are examples of how state actors can exploit cyber vulnerabilities for strategic objectives.
The EMP Threat: An Overlooked Component of Cybergeddon
The Defense Technical Information Center has flagged the possibility of nuclear electromagnetic pulse (EMP) attacks as a part of the military action that could precipitate Cybergeddon. EMPs have the potential to disable all electronic devices within their range of impact, essentially rendering every digital system useless. Such a situation would not only pave the way for conventional military attacks but would also create an immediate state of anarchy in the affected area, as all forms of digital communication would break down.
Mitigation and Preparedness: A Call to Action
So, how do we guard against Cybergeddon? The answer is not straightforward. The interrelated nature of these threats requires a comprehensive approach to cybersecurity that extends beyond the walls of any single organization. Governments need to strengthen their national security strategies to include robust cybersecurity protocols. Collaboration between nations becomes paramount to track and counter threats that easily transcend borders.
Companies, regardless of their size, must invest in advanced cybersecurity measures and cultivate a culture of awareness among employees. Cyber hygiene is not just an IT department's responsibility; it's a collective one. Plans for incident response and disaster recovery should be in place, tested, and updated regularly. Furthermore, public and private sectors need to work in unison to share intelligence and resources.
Conclusion
While Cybergeddon remains a theoretical concept, the evolving landscape of cyber threats lends it an uncomfortable air of inevitability. It is not enough to tackle cybercrime, cyberwarfare, cyberterrorism, and hacktivism in isolation. We must recognize the catastrophic potential that arises when these threats converge and act decisively to prevent a digital doomsday scenario. The cost of inaction is simply too high to ignore.
~ Joe Shenouda